Wining and Dining > Restaurants, Cafes and Bars
Muum Maam (moom mum) named after the Thai slang for 'little glutton'
Muum Maam Barangaroo was established in 2016 as part of Sydney's biggest
food hub near the iconic harbour, at Barangaroo South. Right in the centre of
Sydney's thriving culinary scene, we bring authentic Thai cuisine to Sydneysiders
with everything made form scratch. We continue the same concept as our sister
Bistro, Muum Maam Surry Hills, with quick Thai street style food during the day,
and signature dishes such as Massaman Veal Ossobuco served in the evenings.
We also create exciting new dishes available only at Barangaroo store so you'll
find something different at Muum Maam Barangaroo.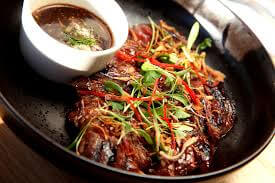 Details
Last Updated

28/May/2022

Contact

Suwat "Top" Arayarungroj

Email

Phone

(02) 9318 0881

Website

Address

Shop 1 50 Holt St, Surry Hills NSW 2010