Building Maintenance > Cleaning Services
Quad Services is a national provider of quality cleaning, security and associated building services to a wide range of markets. Founded in 1972, we are proud to be Australian owned and operated. Our success in each of these markets is based upon the application of our operations model:

Two levels of Management – Operations Manager and General Manager- close to clients in small geographical areas with a limited number of sites to manage, to ensure fast and effective service to meet client needs.

A culture of service.
Appropriate staffing and site resources.
Provision of safe and environmentally friendly work practices.
Ongoing staff evaluation and training.
Regular site inspections.
Customer Care system which provides an alternate client feedback process and enables us to effectively measure client satisfaction.
Effective performance review with client representatives.
Each market requires specific experience, equipment and training. But the quality of the service in all markets is based upon the disciplined application of the above model delivering effective supervision of a consistent service providing customised solutions to client requirements.

Over the past 40 years Quad has developed to provide cleaning, security and maintenance services to a large and diverse portfolio of contracts, including commercial buildings, retail complexes, education facilities, healthcare facilities, and major industrial and public venue complexes.

Our professional and experienced local team ensures we deliver our service promptly and effectively. The commitment of the owners and Quad's management is to continue as a quality provider of services throughout Australia.

Quad Services is a Quality Assured company and holds all the necessary insurance and affiliations.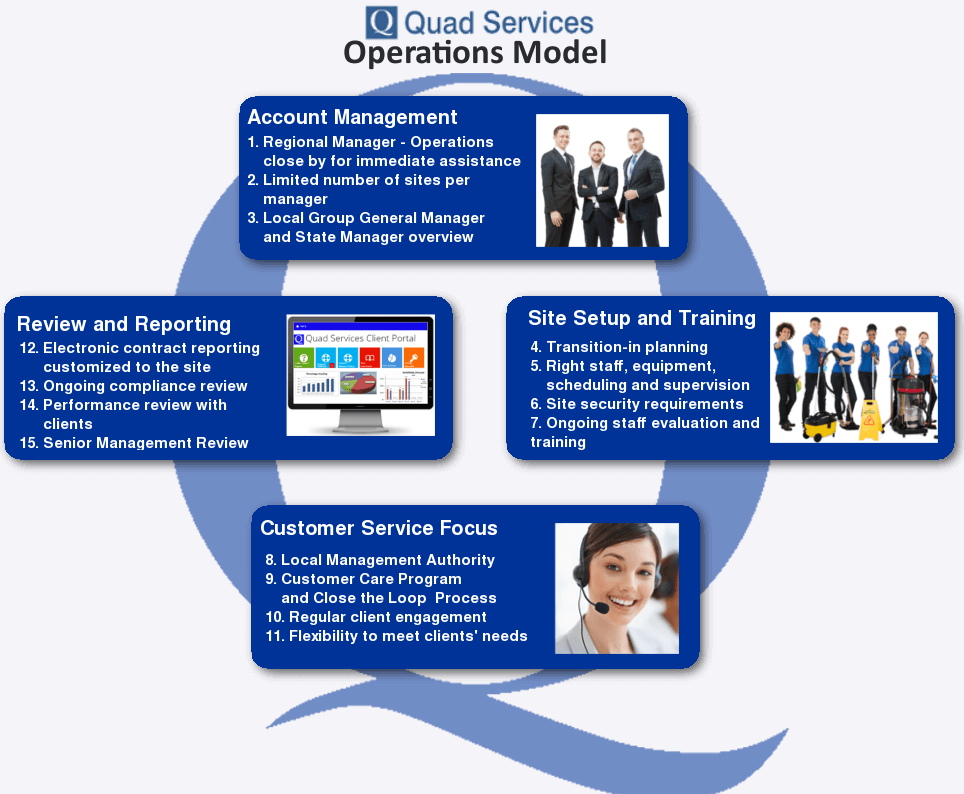 Details
Last Updated

27/Jan/2022

Contact

Andrew Yardley

Email

Phone

(02) 8425 6960

Website

Address

12 Carlotta St, Artarmon NSW 2064