Wining and Dining > Restaurants, Cafes and Bars
"So let's all retire to the bar for a drink and reminisce about the days when Andrew McConnell opened Cutler & Co (2009!) and then when the Builders Arms a block away was McConnolised (2012!) with not only a fab bistro but the bijou and singular restaurant, Moon Under Water.

Marion is his fourth Gertrude gaff, and even though it's right next door to Cutler and could be construed as its satellite bar, it would be criminally underselling the situation. One of the things the A-Mc does very well is create venues (Cumulus Inc and Cumulus Up spring immediately to mind) that are what you make them, and while Marion could be used as a pre-dinner pit-stop, it deserves more loving. Revert to the hip term bistronomy, if you must, which is another way of saying it has excellent food and wine values while trying really hard not to show how hard it's trying.

It has some natural advantages over any competitors. For one thing, sharing the vast cellar of Cutler & Co means Marion can lay claim to being the best-stocked wine bar in the 'hood, but in reality there's no need to venture beyond the shorter list purpose-built for Marion, stuffed with all kinds of vinous excitement by the glass peppered with retro-tastic prices such as Victoria's 2014 Silent Way multi-regional Semillon blend at $9 or, at the other end of the spectrum, the funkadelic Jean Bourdy Cotes du Jura chardonnay at $18.

The menu is on the wall, written in that unfussed, one or two ingredients cryptic style. So let's translate. You can order a whole king prawn, split down the middle and sloshed in a puddle of cultured butter and shredded kombu. There's kingfish crudo, but for a change of scenery in the raw fish department there's also duckfish, fat pale pink wodges mingling with piped avocado and strips of lardo and pickled fennel. Another perfect meeting of pig and ocean arrives with the mussels and nduja, the spicy soft Calabrian salami added like a crumbly spice to the chilled bivalves and cucumber ribbons on a raft of toasted bread. Deeply flavoured, salty-chewy chargrilled strips of smoked ox tongue and mortadella get busy under a blizzard of horseradish with sweet chutney running interference, while ""parmesan celery bottarga (cured fish roe)"" is indeed those three with a dash of awesomeness in the form of parmesan custard.

There's plenty more going on at Marion. The menu changes a lot (although the mussels and nduja have blessedly been hanging in from the start), which gives everyone the perfect excuse just to pop in and see what's going down. Hypothetically speaking, of course, because really you don't need an excuse."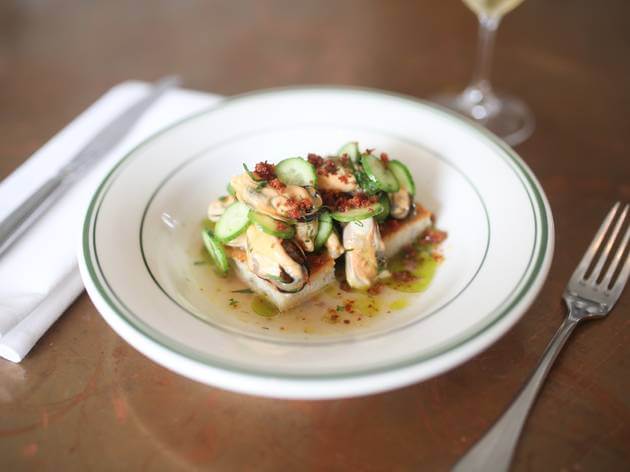 Details
Last Updated

15/Dec/2022

Contact

Marion

Email

Phone

03 209419 206262

Website

Address

51-53 Gertrude St Fitzroy Melbourne 3065