Medical > Vets
Dogs and cats deserve the best we can provide — so we endeavour to see things from a pet's perspective.
For sick pets we work hard to establish a diagnosis and then recommend the best, most economical treatment.
For pets small and large, young and old the foundation of good health depends on a good natural diet.
Over twenty years ago I was one of the pioneers of a Raw Meaty Bones diet for dogs and cats. There's lots of media interviews at www.rawmeatybones.com — including ABC Investigators, Ray Martin at Midday, A Current Affair and Today Tonight — where you can see dogs and cats thriving after diet change. Stinky 'dog breath' and chronic disease become a thing of the past for pets fed a natural diet.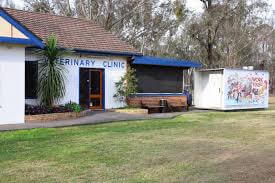 Details
Last Updated

08/Mar/2022

Contact

Tom Lonsdale

Email

Phone

(02) 4577 7061

Website

Address

48 Rifle Range Rd, Bligh Park NSW 2756